HappyBusiness
Virtusa winning more biz, to hire extra staff
By
|
Virtusa Corporation, the global consulting and IT outsourcing company with roots in Sri Lanka, announced in Colombo yesterday that it would expand hiring on robust above-industry growth in business.
"We will expand our staff by 13-15% both in Sri Lanka and India from the 2017/18 fiscal year," US-headquartered Virtusa Chairman and CEO Kris Canekeratne told Lankan journalists yesterday on the sidelines of a day's visit to the country.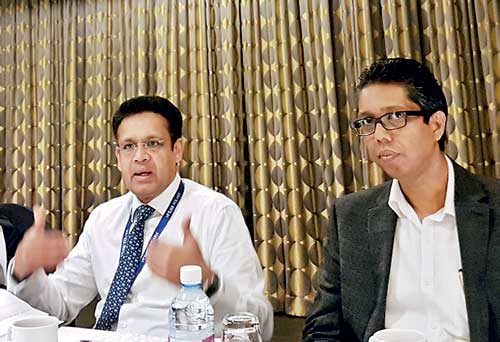 India and Sri Lanka are the two major development centres of Virtusa which together with its newly acquired subsidiary Polaris has 18,500 employees including 3,500 in Sri Lanka.
On Thursday for the third quarter ended 31 December, Virtusa reported revenue of $ 217.2 million, up by 4% from the second quarter and 48.6% year-on-year. At the end of 2Q Virtusa's guidance for 3Q was a revenue in the range of $214.5 to $219.5 million
Kris described the 4% growth as "above industry average" since most others had either experienced much lower traction or remained flat. In its guidance for the final quarter, Virtusa expressed hope for a further 4% sequential growth in earnings to $ 224-229 million from 3Q. Fiscal year 2017 revenue is expected to be in the range of $ 856.8- $ 861.8 million.
Around 50% of Virtsua's revenue comes from clients in the banking and finance sector and the balance is from insurance, healthcare, telecom, media and IT. Its major markets are the US and Europe.
The company ended the third quarter with $ 237.2 million of cash, cash equivalents and short-term and long-term investments.
Virtusa's prospects have considerably improved following its acquisition of 51% controlling stake in Polaris Consulting & Services in March last year for $ 166 million. It now owns 75% in the entity. In the second quarter of FY17, Virtusa-Polaris won a $ 40 million contract, the largest deal of its kind, to function as the preferred strategic solutions partner for a big US bank's roll out of next generation digital mobile banking platform. The breakthrough was an early sign of estimated over $ 100 million cumulative revenue synergies (over the next three fiscal years) alluded to at the time of the Virtusa-Polaris deal.
Kris said Virtusa has leading digital transformation and innovation capabilities powered by talented engineers and developers both in Sri Lanka and India. Virtusa is also successfully riding the opportunities arising from what the World Economic Forum has identified as the fourth industrial revolution driven by digital transformation, millennials' consumption power and habits, overabundance of assets in the supply chain (examples such as Uber and Airbnb) and investments in disruptive business models (fintech, blockchain, etc) challenging the larger established firms with a legacy of assets, etc.
Virtusa is helping firms to better harness these opportunities as well as lower the overall cost of operations and improving efficiencies with Digital Transformation and Innovation and Operational Excellence solutions.
Celebrating 21 years of success in 2017, Virtusa has enjoyed a near 24% compounded annual growth rate during the past decade, and Kris expressed confidence of growing faster than the industry in FY18 as well as beyond.
He said if US President Donald Trump's proposed new business, immigration and tax policies come into force, IT companies such as Virtusa are likely to re-strategise, shifting some business offshore or sourcing more people from the US.
Given the client base and the kind of work Virtusa does, Kris said South Asia remains the best talent location to serve global markets though it might expand in customer-proximity centres in North America and Eastern Europe. According to Virtusa Chairman and CEO, skills set as well as cost of talent in both India and Sri Lanka were similar except that the former has a larger pool with 1 million software engineers graduating annually.
Last week Virtusa reported GAAP income from operations of $ 6.5 million for the third quarter of fiscal 2017, compared to $ 3.5 million for the second quarter of fiscal 2017 and $ 14.1 million for the third quarter of fiscal 2016. The third quarter fiscal 2017 GAAP income from operations includes $ 1.9 million of restructuring charges related to certain cost-saving initiatives.
On a GAAP basis, net income for the third quarter of fiscal 2017 was $ 4.4 million or $ 0.15 per diluted share, compared to $ 3.2 million or $ 0.11 per diluted share for the second quarter of fiscal 2017 and $ 11.3 million or $ 0.38 per diluted share for the third quarter of fiscal 2016. The third quarter fiscal 2017 GAAP net income includes the impact of the aforementioned restructuring charges related to certain cost-saving initiatives and net of tax.