HappyFoods
Traditional Sri Lankan Food You Would Love – Exotic Flavours to Treat Your Senses
By
|
Traditional Sri Lanka food is still immensely popular across the island speaking volumes about each dishes' flavour and value. When touring the country there are some must-try meals as listed below.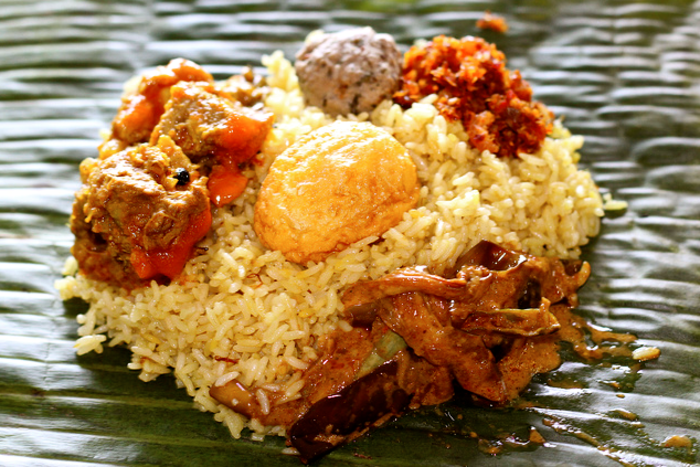 Lamprais is a traditional dish that comes down from the Dutch colonist; it belongs to the Burgher community which is just one of the ethnic groups offering their culinary expertise to the island's melting pot of cuisine. Lamprais will delight your senses immediately on opening the rice packed in an aromatic banana leaf. The dish consists of rice boiled in a flavoursome chicken broth, a cutlet, tempered sweet and savoury onions called seeni sambol, a delightful fried and cooked ash plantain mix, a boiled and fried whole egg and spicy chicken. All this is sealed within a banana leaf and side portions may vary depending on the place you purchase your pack of lamprais; mind you the dish is loved for lunch and disappears pretty fast come noon time.
2.Kottu
Kottu was born of leftovers and is today a staple night food. The dish comprises of cut godamba roti mixed on a hot plate with shredded vegetables and various meats of your choice. There are many variations to this hearty meal which is now quite popular with the addition of cheese to its repertoire.
3.Hoppers
Nov 16, 2016
No journey of sampling Sri Lankan cuisine is complete until you try the delightfully crispy and soft hoppers. These are a kind of pancake made in a small wok to which a batter of rice flour, yeast and thick coconut milk is added. The pan is twirled around to allow the sides to be coated in a thin layer of batter while the remainder collects at the base of the pan. The final result is a bowl-shaped hopper with crispy sides and soft fluffy centre. Utterly delicious and best eaten with a spicy curry and seeni sambol. You can opt for the egg hopper which has a half-baked egg added to the centre and the milk hoppers with a dollop of sweet coconut milk added to the centre.
4.Kiribath
Kiribath or Milk Rice is a very traditional dish that graces the breakfast table during any auspicious event or first of the month. Made with white or red raw rice cooked in coconut milk; the milk rice is allowed to thicken and form a paste which is spread on a platter and cut into individual portions once set. Milk Rice symbolises good luck and it is eaten with curry and onion relish called lunu miris or a good dash of sugar; if you have a sweet tooth.
5.Rice and Curry
Rice and curry is a Sri Lankan staple; no Sri Lankan can go without a meal of rice and curry at least once a day. It is a lunch time basic and freely available at most restaurants in the island; of course, if you are an ardent global 'foodie traveller' checking with informative gourmet websites the likes of The Dine and Wine must be common practise. You will learn that Sri Lankan rice and curry consists of a good mound of rice around which various curries are served; these include about 2 vegetables, a salad and options of egg, dry fish, meat or fish. Spicy sides such as chutney, pickle or a fried chilli are also added.
[emojot type = "inline" id="56a82591e22c01f34569697f_579d6846f779058d6d78f309″]
Facebook Comments